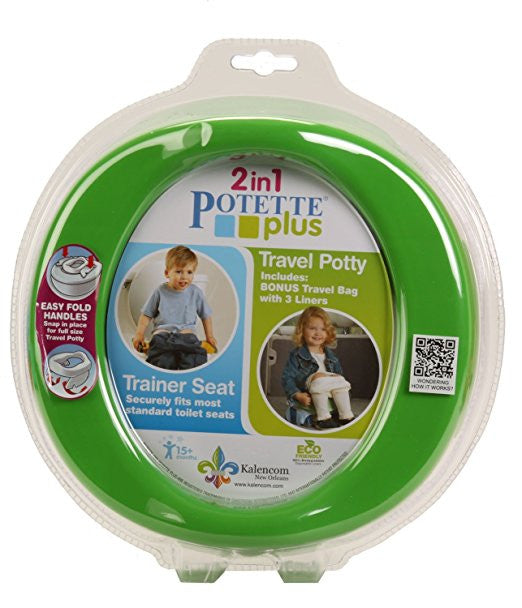 2in1 Potette plus - Travel Potty
2in1 Potette plus - Travel Potty
$ 16.00
The Potette Plus brand portable potty is great for travel or to take anywhere that you may not have access to a sanitary bathroom. It's a clean potty for your child no matter where you go! Disposable liner re-fills are sold separately.
• Contoured seat for your child's comfort.
• Sturdy well-balanced base helps your child feel secure.
• Legs lock into place when opened.
• Folds flat so it can fit in a purse or diaper bag.
• A great potty to keep in your car, boat, camper, or RV.
• Uses self-absorbing, disposable liners that discard like a diaper.
• Disposable liners hold up to 5 ounces of liquid. • Liners are lightly scented to absorb odors. • Liner handles secure to the potty and tie closed for disposal. • Drawstring carrying bag included. • Comes with 3 super absorbent, leak-proof and easy-to-use disposable liners
• When used as a travel potty, suitable for ages 15 months and up to 50lbs.
• Easily converts to a folding trainer seat suitable for children 2 years and up to 50 lbs.
• Non-slip, durable, and comfortable. • Hygienic - can be used on all toilet seats.
• Fold close after use and store.